Newsletter
The veterinarians and staff at the Eastside Veterinary Associates are pleased to provide you with an online newsletter. This fun and fact-filled newsletter is updated on a regular basis.
Included in the newsletter are articles pertaining to pet care, information on our animal hospital, as well as news on the latest trends and discoveries in veterinary medicine.
Please enjoy the newsletter!
Current Newsletter Topics
Canine Influenza Outbreak in Chicago Infects Over 1,000 Dogs
Five dogs have died and over one thousand dogs have been sickened by a severe Canine Influenza outbreak in the Chicago area. The illness is highly contagious between dogs, and symptoms include loud coughs, fever, lethargy, and loss of appetite. Canine Influenza can lead to pneumonia, which can be fatal in dogs.
If you and your dog spend time in the Chicago area, we recommend keeping your dog away from other dogs. For the best protection, we also recommend vaccinating your dog against Canine Influenza. Please contact your veterinarian for more information.
Bird Flu Outbreak Spreads To 16 States
A recent bird flu outbreak has sickened millions of birds, but officials at the Centers for Disease Control and Prevention say that the risk to humans and other animals is minimal. The outbreak began in December 2014 and has continued to spread. Health officials in Iowa, the top egg-producing state in the US, say that more than 5 million chickens would need to be euthanized after the virus was detected at a large commercial poultry facility.
While some humans have been sickened by another strain of the virus in the past, there are no cases of the strain responsible for this outbreak infecting humans, and the CDC says the risk for humans is low. This virus does not spread through consumption of poultry products.
Although the risk is minimal, the CDC recommends the following:
Avoid wild birds and avoid contact with domestic birds that appear ill or have died
If you have had contact with infected birds, monitor your own health for conjunctivitis or flu-like symptoms, and see a doctor if these symptoms appear
If you would like more information about bird flu, talk to your veterinarian.
Microchipped Pets Are More Likely To Be Returned Home
Lost pets that have microchips are more likely to be reunited with their owners. This is according to a recent study published by a leading veterinary journal.
Animal shelters in twenty three states participated in this study. It was revealed that shelter officials were able to find the owners of microchipped pets 4 out of 5 times.
"This is the first time there has been good data about the success of shelters finding the owners of pets with microchips," says Dr. Linda Lord, lead author of the study and professor Ohio State University College of Veterinary Medicine.
According to shelter statistics, lost microchipped cats were twenty times more likely to be returned to owners than non-microchipped cats. Microchipped dogs were 2.5 times more likely to be returned to their owners than non-microchipped dogs.
The major reason why pet owners could not be located was due to incorrect or disconnected phone numbers in the registration database. "The chip is only as good as the information that the owner provides. The pet owner needs to make sure that their information is always up-to-date." Lord says.
Owners' not returning calls or answering letters, unregistered microchips and microchips registered to a database that differed from the manufacturer were other reasons owners were not found, according to the study.
The results of this study clearly indicate the advantage of microchipping your pet. However, even though microchipping is essential, nothing replaces the need for a collar and tag with your pet's name and your phone number, Lord says.
The Most Dog-Friendly Cities in the US: From Paucity to Paw City
As dog owners, we've all been there: You head for the door and even before you reach for your coat your dog is staring at you expectantly, tail wagging wildly. "C'mon let's go! Where are we going?! C'mon!" the eyes and wiggling body seem to say. It's always a little heartbreaking when you have to leave him behind. In a growing number of places across the country, however, you don't have to leave your beloved pal to pine for you, or worse, to eat your favorite shoes.
Local governments and businesses are making it easy to grab the leash more often, which has important benefits for not just your enthusiastic companion's overall quality of life, but for the bond you share as well.
These Cities Have Gone to the Dogs
So which cities rank at the top?
Richie Bernardo at Wallet Hub ranked cities based on metrics such as ownership and maintenance costs, health care and pet friendly outdoor spaces. The following made his top ten:
Cincinnati, OH
Las Vegas, NV
Scottsdale, AZ
Irvine, CA
Sacramento, CA
Atlanta, GA
Tampa, FL
St. Louis, MO
Orlando, FL
Glendale, AZ
Forbes weighs in with a slightly different list based on pet-friendly home rentals, dog parks, dog-friendly businesses, pet care costs, dog-centric events and walkability:
San Diego, CA
Portland, OR
Seattle, WA
Chicago, IL
Orlando, FL
Austin, TX
Las Vegas, NV
San Francisco, CA
Milwaukee, WS
Minneapolis & St. Paul, Minnesota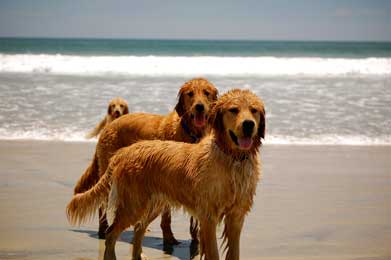 Dogs on the beach in San Diego, CA
Some other cities that have made the cut according to PawNation and The Huffington Post are Boston, MA, Albuquerque, NM, and Tucson and Phoenix, AZ.
Taking a Trip? Don't Forget Your Dog!
Don't see your home city on these lists? If you don't live in one of these top dog-friendly locales, you and Fido can still visit one. One Green Planet suggests the following 10 vacation destinations for you and your furry, tail-wagging companion:
Austin, TX
Bar Harbor, ME
Cape Cod, MA
Carmel, CA
Chattanooga, TN
Chicago, IL
Colorado Springs, CO
Key West, FL
Portland, OR
Sonoma Valley and Napa, CA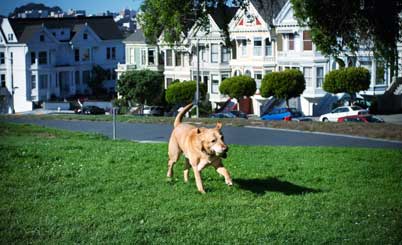 San Francisco is considered one of the most dog-friendly cities by Forbes.
Make Every Day a Dog Day
Dogs are loyal, loving companions who are happiest when they're with their humans. Whenever you can, keep your eye out for events and activities you and your dog can enjoy together. It will help you both be happier and healthier!
VIDEO:Worms We Share
Worms - not a terribly popular topic, but one that could cause you and your pet a stay in the hospital. Veterinarians see the problems every day, but most dog and cat owners are unaware of the problems and risks. A recent survey found that nearly half of dog owners do not know that hookworms and roundworms can transmit harmful diseases to family and friends. Watch this great video and learn more about preventing potentially dangerous worms in your pet and family members.
Cancer In Pets Is Not Uncommon
May is Pet Cancer Awareness Month.
Cancer is an often life-threatening disease that many people think affects only humans. So, it often comes as a shock to many pet owners when their pet is diagnosed with cancer.
Cancer in animals is unfortunately not uncommon and is very similar to cancer in humans. Like humans, the causes of cancer can either be genetic or environmental. The common types of cancer seen in companion animals are diagnosed more frequently only because we can detect them more easily. These cancers involve the lymph nodes, limbs or skin tumors. Tumors located in organs or inside body cavities are more difficult to diagnose and are often not detected until the animal develops clinical symptoms.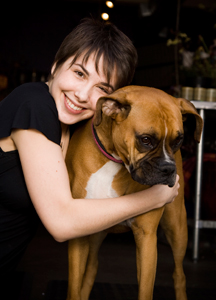 Know the Signs of Cancer in Pets
There are a number of indications that an animal may have cancer. The best way to detect the commonly diagnosed types of cancer is for owners to carefully feel their animals all over once a week. It is also a good idea for owners to try and look inside their pets mouths once a week. Owners should pet their animals thoroughly once a week and feel for abnormal lumps, bumps, swellings, and any area that's just plain painful. Open, ulcerated wounds that take a long time to heal (or not heal at all) might be another potential sign of cancer.
Some non-specific symptoms of cancer include a lack of appetite, weight loss, vomiting, or diarrhea. Also, certain breeds are more prone to cancer than others. Breeds such as boxers, Bernese mountain dogs, and golden retrievers are overrepresented in the development of cancer. There have even been studies that have traced the family trees of dogs. These studies have suggested a genetic predisposition in certain families.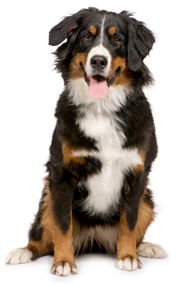 Bernese Mountain Dog
In order to identify the exact type of cancer, aspirates and biopsies are performed. Once the cancer is identified, it is "staged". This is accomplished by performing additional diagnostic tests such as lymph node sampling, ultrasonography and / or radiology examination.
Often, the diagnosis of cancer leaves owners feeling that there is no hope for their pet. However, many types of cancer can be successfully treated and these pets can return to a normal life.
Treatment depends on the type and location of the cancer. If possible, surgical removal of the tumor is performed. Some types of cancer are responsive to chemotherapy, which include a variety of oral and intravenous medications. Dogs and cats tend to tolerate chemotherapy well and rarely develop the same side effects that are seen in humans. Prior to treatment, blood and urine tests are performed to asses the overall health of the pet to be sure they are good candidates for treatment.
Before beginning a cancer treatment, many things need to be taken into consideration. Most important is the animal's quality of life verses the aggressiveness of the treatment. The same types of drugs that are used in human cancer therapy are used in veterinary cancer therapy. The chief difference is that we tend to use lower doses at less frequent intervals.
Chemotherapy is one form of cancer therapy that is offered. The primary goal of chemotherapy is to obtain a cure. If a cure is not possible, the goal of chemotherapy is to provide a better quality of life for your pet. We recommend treatment only if it is appropriate for your pet.
Most chemotherapy protocols are designed so pets don't become terribly ill. In fact, many pet owners don't even realize that their pet has had chemotherapy. Less than 5 percent of the animals develop severe vomiting, diarrhea or a severe drop in their blood counts. Compared to the side effects of chemotherapy in humans, hair loss is very uncommon in pets.
For many people, their pets are more than just animals; they are members of their family. Usually pet owners want to do everything that they can to prolong their pets' lives and keep them feeling healthy. Chemotherapy is an excellent method for treating many types of cancer in pets.