Newsletter
The veterinarians and staff at the Eastside Veterinary Associates are pleased to provide you with an online newsletter. This fun and fact-filled newsletter is updated on a regular basis.
Included in the newsletter are articles pertaining to pet care, information on our animal hospital, as well as news on the latest trends and discoveries in veterinary medicine.
Please enjoy the newsletter!
Current Newsletter Topics
VIDEO: Top Products to Help Pets and Help Pets Have Fun
From webpages online to catalogs and even grocery store shelves, products for our pets are showing up everywhere. Pet owners have literally hundreds of thousands of choices when it comes to finding play items, grooming needs and even products that help with behavior issues. But, how do you know what is a GOOD product and which ones should be left alone? Take a few moments to watch this video and see some Top Pet Products recommended by veterinarians!
HIV Vaccine Clues from Feline Research
Cats May Offer Clues for HIV Vaccine
Researchers in Jacksonville have discovered a link between feline immunodeficiency virus (FIV) and human immunodeficiency virus (HIV) that may be a key to developing a vaccine for HIV. Janet Yamamoto, a professor of immunology at the University Of Florida College Of Veterinary Medicine, recently discovered a protein in the FIV virus triggers an immune response in blood from HIV-infected people.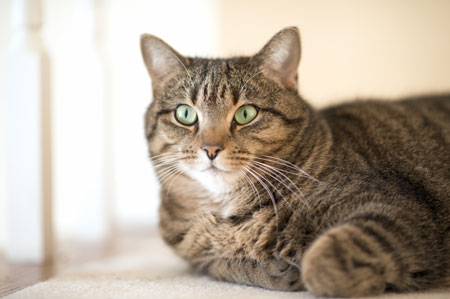 Yamamoto, who discovered the first FIV vaccine in 2002, said that the possible HIV vaccine will need to be tested in two animals before it can be tested on humans; monkeys will likely be the next test subject. Provided animal testing goes well, the vaccine could be tested on humans within the next five years. "We can use those animals as a model," Yamamoto explained, adding that monkeys and cats cannot transmit the disease to humans.
Inherited / Genetic Disorders in Dogs
The staff at our hospital would like to develop a close relationship with you and your pet. You will find that among the members of our staff, we have interest and expertise in many species and specialties. Hopefully, your pet will never require more than routine care, but sometimes more complex issues arise.
In many cases, early detection and monitoring can help prevent problems and provide long-term management of existing conditions. We have found great satisfaction in keeping our patients comfortable and happy! Because some health conditions have a genetic basis, we know that puppies of certain breeds are more likely than average to show specific problems. We would like to offer you help with early detection of these, so that their effects, if present, can be minimized. Please scan the list below; it is an illustration of how pervasive genetic diseases are. If your breed is listed, please ask a member of our staff about the linked disease, screening test(s), and recommendations.
German Shepherd
This list is just a sample and is not exhaustive; ask us if your pet is pre-disposed to something so that we can discuss how to help. Some problems, such as heart valve disease, dental/periodontal disease, and skin allergies are seen in many breeds. Some of our suggestions may be hospital-oriented (lab-work, X-rays, etc.) while some may relate to home management. For example: a large breed puppy that is checked for hip dysplasia may have a long, relatively comfortable life if he/she avoids games of Frisbee and long runs; a King Charles Cavalier Spaniel placed on cardiac drugs pre-emptively may significantly increase its life expectancy.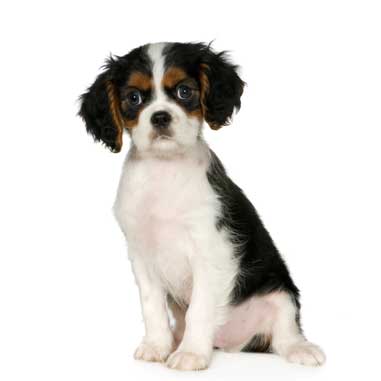 King Charles Cavalier Spaniel
When should these problems be addressed? Before the problem is so severe that your pet is showing symptoms. More often than not, a few simple tests can give a diagnosis. From there, we work with you to keep your pet comfortable and symptom-free.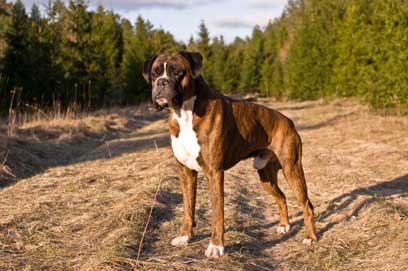 Boxer
| | | |
| --- | --- | --- |
| BREED | DISEASE/DISORDER | TEST |
| Beagle, Large Breeds | Hypothyroidism | Thyroid Blood Tests |
| Boxer, Cocker, Doberman | Cardiomyopathy | EKG, X-ray, Ultrasound |
| Boxer, Golden Retriever | Cancer – Various types | Physical Exam, Biopsy |
| Bernese Mountain Dog | Malignant Histiocytosis | Physical Exam, Blood Tests |
| Chinese SharPei | Renal Amyloidosis | Urinalysis, Blood Tests |
| Cocker Spaniel, Welsh Terrier and others | Glaucoma | TonoPen Ocular Pressure Monitoring |
| Dalmatian, Schnauzer | Urinary stones/ Obstruction | Urinalysis, X-ray, Ultrasound |
| Doberman, Rottweiler | Von Willebrand"s "hemophilia" | Blood test, Clotting Profile |
| King Charles Cavalier Spaniel | Mitral Insufficiency | EKG, X-ray, Cardiac Ultrasound |
| Large breeds (Lab, Golden, Shepherd, etc.) | Hip Dysplasia | PennHip X-ray of pelvis |
| Toy Breeds | Patella Luxation "loose kneecap" | Physical Exam |
| Wheaten Terrier | Glomerulonephropathy, Protein Losing Enteropathy | Urinalysis, Blood tests, Endoscopy and Biopsy |
VIDEO: Your Dog Ate What??
You might not be surprised to see your dog eat grass out in the yard, but, when x-rays show knives, rocks or even diamond rings, it might cause you to wonder. Each year, Veterinary Practice News holds a contest known as "Your Dog Ate What?" and they receive thousands of x-rays from across the country. Want to see some bizarre things our pets ate? Take a moment to watch this video and find out which dog won the title for eating the most unusual object!
February is National Pet Dental Health Month
Dental care is vital to your pet's health! If you've already established a dental care program for your pet, you're off to a great start. But if your pet hasn't received a dental exam from your veterinarian, it's time to get started. February is National Pet Dental Health Month, the perfect time to schedule a dental exam for your pet and develop a home care regimen for your best friend.
Why is dental care so important for your pet? Periodontal disease is the number one diagnosed problem in pets - by the age of two, more than 80 percent of dogs and 70 percent of cats have periodontal disease in one form or another. The buildup of plaque and tartar on your pet's teeth leads to bacterial infections that can enter the bloodstream and infect other parts of your pet's body. Periodontal disease has been linked to heart attacks, strokes, kidney disease, osteoporosis and other problems.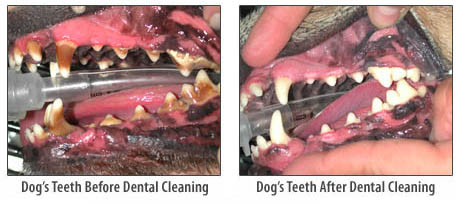 The good news is that periodontal disease is easily prevented. Regular dental cleanings and a home dental care regimen can eliminate the plaque and tartar that lead to gum disease and oral infections. During a dental cleaning, your veterinarian also performs a complete oral examination of your pet. This includes screening for oral cancer, broken teeth and cavities. Spotting these problems early on makes them easier to treat and improves your pet's overall oral health.
Your pet's dental cleaning is more involved than the same process you go through at your dentist's office. Anesthesia is required to keep your pet still and comfortable during the procedure. Because of this, your pet undergoes a thorough physical examination before each dental cleaning. Laboratory blood tests, as well as other diagnostic procedures are also used to screen for potential problems and risks before anesthesia is administered. Using these results, we develop a safe anesthetic protocol specifically for your pet.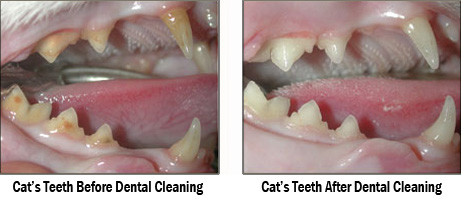 During a dental cleaning, tartar is removed from your pet's teeth with a hand scaler. Next, a periodontal probe is used to check for pockets under the gumline - where periodontal disease and bad breath start. An ultrasonic scaler is used to clean above the gumline and a curette is used to clean the teeth under the gumline and in the crevices. Finally, the teeth are polished and an anti-bacterial solution is applied to help delay future tartar build-up.
Dental care doesn't end in your veterinarian's office. Brushing your pet's teeth at home is an added level of protection against gum disease. In order to be most effective, brushing must be done at least three times a week; however, daily brushing is ideal. Brushing your pet's teeth can be supplemented with antiseptic rinses. Some pet foods and treats are also effective in preventing plaque and tartar buildup. However, there is no substitute for regular brushing and professional dental cleanings.
Call the hospital to schedule a dental examination and cleaning for your pet today. Your best friend will thank you!
Record Breaking Dog Sale in China: Tibetan Mastiff Sells for $2 Million
What might have been the most expensive dog in the world was auctioned off in China for 12 million yuan, equal to about 2 million USD. The dog, a Tibetan Mastiff, was sold at a luxury pet auction in Beijing. The breed has become something of a status symbol for wealthy Chinese, are lion-like in appearance and are often up three feet tall.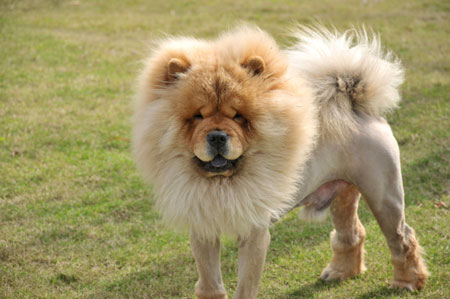 The dogs are said to be descendants of those used by nomadic tribes for hunting in central Asia. In China, the dogs are known to bring good luck to their owners. The dog was sold to a 56-year-old property developer.