Newsletter
The veterinarians and staff at the Eastside Veterinary Associates are pleased to provide you with an online newsletter. This fun and fact-filled newsletter is updated on a regular basis.
Included in the newsletter are articles pertaining to pet care, information on our animal hospital, as well as news on the latest trends and discoveries in veterinary medicine.
Please enjoy the newsletter!
Current Newsletter Topics
Summer Exacerbates Your Pet's Breathing Problems
How Summer Exacerbates Your Pet's Breathing Problems & What You Can Do To Help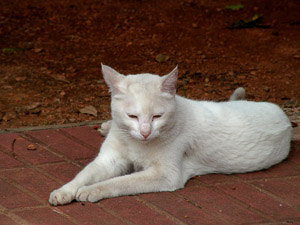 With summer in the air, it's getting particularly hard for some animals to breath. This is especially the case for short-nose – or flat-faced – dogs, such as the Pekingese, pug, bulldog, boxer, shih tzu, and chihuahua. However, these airway problems, which are typically due to narrow nostrils, a long soft palate, or collapsed voice box, can also affect our feline friends, such as Himalayans and exotic shorthairs. This condition (known as the Brachycephalic airway syndrome) is largely due to the dog or cat's unique head shape, so there isn't much you can do to entirely avoid it.
However, there are certain factors that can increase the risk and further complicate their breathing condition. These include:
Allergies (especially in the summer)
Obesity
Over-excitement
Exercise and any other activity that could lead to excessive breathing. Panting may also naturally increase in the summer months as the weather gets hotter and more humid.
Treatment options largely depend on the symptoms exhibited by your dog or cat. In some cases, surgical procedures may be your pet's best option.  So don't let the summer heat waves stop your pet from getting a breath of fresh air. For more information about symptoms and treatments, talk to your local veterinarian.
Summer Tips for Dogs
Helping Rover Beat The Heat!
People usually prepare themselves for the dangers of increased temperatures. But as the dog days of summer approach, our trusted companions also need special attention to insure that they don't get burned. Like for us, the summer months bring an increased danger of heat exhaustion and heat stroke for dogs.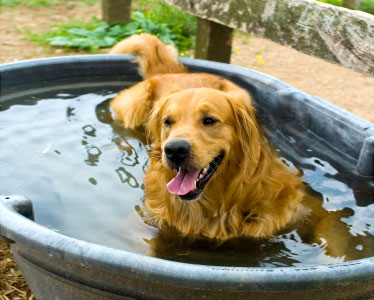 People naturally regulate their body temperature by sweating. Dogs mainly cool themselves by panting, or breathing in through the nose and out through the mouth. The process of panting directs air over the mucous membranes (moist surface) of the tongue, throat and trachea (windpipe). The air that is flowing over these organs causes evaporation, thus cooling the animal. Another mechanisms that helps remove heat includes dilation of blood vessels in the skin of the face, ears and feet. Dilated blood vessels located on the surface of the body cause the blood to loose heat to the outside air.
A dog's normal body temperature is 100.5 to 102.5 degrees Fahrenheit. Like people, dogs can become overheated. If it rises to 105 or 106 degrees, the dog is at risk for developing heat exhaustion. If the body temperature rises to 107 degrees, the dog has entered the danger zone of heat stroke. With heat stroke, damage to the body can be irreversible. Organs begin to shut down, and veterinary care is immediately needed.
Fortunately, if owners recognize heat exhaustion, they can prevent the dog from entering heat stroke. People can easily recognize when the heat gets to them because they become lightheaded and fail to sweat. For dogs, early signs of heat exhaustion may include failure to salivate and a dry mouth. Heat exhaustion may also include a dog lying down and looking tired, losing its appetite, and becoming unresponsive to owners.
If heat exhaustion progresses into heat stroke, the dog becomes very warm to touch and may have seizures. Internal mechanisms roll into effect that may cause blood clotting and organ damage. If you are near a phone and think that heat stroke is a possibility, call your veterinarian immediately. If a veterinarian is not within reach, or while waiting for a veterinarian, get the dog out of the sun and cool him or her down with cool water baths (cool—not cold). Provide a fan, especially if you wet the dog down, and encourage him or her to drink water.
While these steps may help a dog, the best treatment is prevention. In order to prevent overheating, some owners may shave their dogs or trim their fur excessively. This isn't always a good idea. The hair coat may appear to be a burden for a dog; however, it can also keep the animal comfortable by trapping cool air next to the skin, reducing the amount of heat transferred from the hot outside air to the body of the dog.
Dogs with long or thick coats that have problems with matted hair are often good candidates for clipping. Matted hair can cause skin irritation and is undesirable. Owners that do not have time to adequately remove mats and debris from their dog's coat may prefer to have the coat clipped short. After a short clipping, and if the dog is outdoors, owners need to be careful of sunburn. Sunscreen may be applied to the dog's skin; however, it is necessary to consult a veterinarian to find out which ones are safe.
Here are some other tips for keeping your dog cool this summer:
Keep dogs indoors, in air conditioning, on very hot days.
Do not leave dogs in a car during the summer. Even with the windows down, temperatures inside a car can quickly rise to above 120 degrees.Make sure outdoor dogs have plenty of shade.
Keep fresh water available at all times.
On very hot days, exercise dogs early in the morning or late in the evening. If this is not possible, exercise in an air conditioned environment.
Provide your dog with a sprinkler or wading pool on very warm days.
If you take the dog to a lake, make sure it has plenty of time to drink and get wet. Most dogs can drink lake water without adverse effects.
If your dog has a light coat or exposed skin, take precautions against sunburn.
Dogs can acclimate to warm temperatures and have no trouble staying outdoors in the heat. However, dogs that are used to cool climates or air conditioning should not be left outside on hot days.
Acclimating your dog gradually is the key.
Summer Care Tips for Cats
The summer is a great time to get outside and enjoy the warm weather, but you may want to leave Kitty indoors while you frolic in the sun. While it's easy for you to keep cool when temperatures rise, cats have a much more difficult time when it comes to beating the heat. Here are some tips to keep your feline family members nice and cool in the summer.
Cats generally handle warmer temperatures better than dogs, but owners should remain vigilant about Kitty during the summer months. The easiest way to keep your cat cool in the summer is to keep him or her indoors during the hottest parts of the day. If you do let your cat venture outside, do so early in the morning or at dusk, when the temperature is cooler and there is more shade from the sun. While your cat is inside, keep plenty of fresh, cool water available throughout the house. If the weather is extremely hot, consider wrapping your cat in a cool, damp towel or placing a plastic bag full of ice under their bed.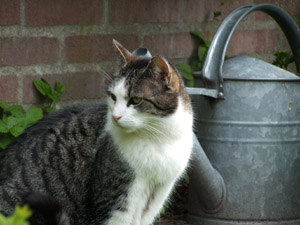 When the weather is extremely hot and humid, cats can be prone to heat stroke. Very old cats, as well as obese cats and those with existing health problems are especially susceptible to heath stroke. Owners should also be aware of signs of heat exhaustion and heat stroke. A cat's normal body temperature should be between 100.5 degrees F and 101.5 degrees F. Any temperature higher than 102 degrees F is dangerous, and immediate action should be taken to lower the cat's temperature. If a cat's temperature increases to 107 degrees F, he or she is possibly suffering the effects of heat stroke.
Signs of heat stroke include:
Panting
Staring
Anxious expression
Warm, dry skin
High fever
Rapid heartbeat
Vomiting
Collapse
If your cat begins exhibiting any of these symptoms, call your veterinarian immediately! To cool your cat down, remove him or her from the area and apply towels soaked in cool water to your cat's skin. Immersion in a cool water bath for 30 minutes may also help lower your cat's temperature. While on the way to the veterinarian's office, place ice packs around your cat's head and body. No matter how you cool your cat off, you must bring him or her to a veterinarian as intravenous fluids may be required. Heat stroke can be fatal if left untreated.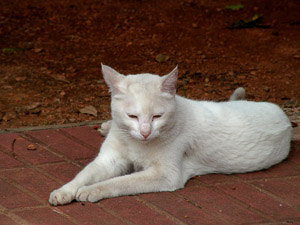 Even though Fluffy is covered in a fine coat of fur, she is just as susceptible to sunburn as you. Cats with white coats or white ears and faces are particularly prone to feeling the effects of the sun's rays. And while sunburn is discomforting for your cat in the short term, it can also have long term effects. Extended exposure to direct sunlight can lead to squamous cell carcinoma, a form of cancer that usually appears at the tips of the ears and on the nose. Signs of squamous cell carcinoma include sores that bleed excessively or do not heal. The best way to protect your cat is to keep him or her out of direct sunlight in the summer time. If your cat is going outdoors, you can protect his or her skin with an application of sunscreen; however, be sure only to use a sunscreen formulated for cats. Sunscreen not designed for cats can result in drooling, lethargy, diarrhea and excessive thirst. Ask your veterinarian about sunscreens that are right for your cat.
Your cat may also face other, non-weather-related problems in the summertime. Cats outdoors for a roam may be tempted to take a taste of antifreeze puddles they find in streets and driveways. Antifreeze is extremely toxic to pets—it only takes one to two teaspoons of antifreeze to poison a cat. Symptoms include vomiting, excessive thirst/urination, depression and a wobbly gait. If you suspect your cat has ingested antifreeze, get him or her to a veterinarian immediately. Owners should also make sure there are no open, unscreened windows in their homes. Adventurous cats may jump or accidentally fall out of open windows, leading to broken bones and other injuries.
Summer can be a carefree, easy time for you and your pet, so long as you both play it safe and keep cool. Ask your veterinarian if you have any questions about beating the heat this summer.
VIDEO: Saving Pets' Smiles and Sometimes,Their Lives
Most of us understand the need for preventative dental care in our pets, but sometimes, a trip to the veterinary dentist can be a lifesaver too! Whether the pet has severe dental disease showering bacteria into the bloodstream or has trauma to the oral cavity, pet dentists have an arsenal of tools ready for action! Watch this video to see why one lucky dog likely owes her life to the work of her Veterinary Dentist.
Top 10 Dog Breeds in 2014
Dogs occupy a larger place than ever in our society in recent years. They're not just pets – they're real members of our families. People have come to cherish a wide variety of these four-legged friends, and according to the American Kennel Club, the 10 breeds below topped the ranks in 2014.
1. Labrador Retriever – Labrador Retrievers, or simply Labradors or Labs, are frequently described as devoted, obedient, outgoing, gentle, agile and intelligent. Great with children and eager to please, it's no surprise these dogs came out on top for the 24th consecutive year.
2. German Shepherd Dog – German Shepherds are working dogs, originally bred for herding sheep. They are known for being strong, intelligent, obedient, loyal and easy to train. While they are a common choice for law enforcement and the military, they also make great family pets.
3. Golden Retriever – Golden Retrievers are the loyal, strong and sometimes overly enthusiastic good buddies of the dog world. These energetic, affectionate canines shower their families with endless nuzzles, kisses and tail wags, and make very emotionally rewarding pets.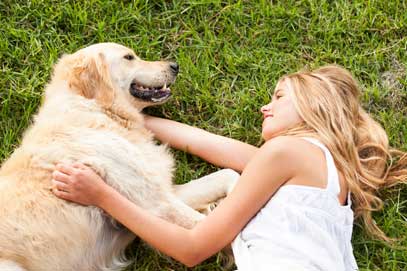 4. Bulldog – This breed is gentle, kid-friendly, affectionate, and stubborn. Bulldogs are not the energetic equals of Golden Retrievers or Labs. Instead, they favor brief walks and long periods of rest – most preferably with their heads on a beloved human's lap – between meals.
5. Beagle – Beagles are members of the hound group and possess a great sense of smell and tracking instinct. Happy, outgoing, loving but also inquisitive and determined, these small and hardy dogs make great family pets.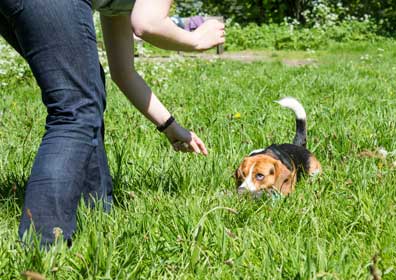 6. Yorkshire Terrier – Yorkshire Terriers are the most popular toy breed in the US. Attention seeking, intelligent and independent, with a propensity for yapping, they are great for apartment dwellers and families with older children.
7. Poodle – Poodles have an unmistakably distinct appearance that makes them stand out from other dogs. They're elegant, active and very intelligent. There are three types of poodles, Standard, Miniature and Toy, and all are considered to be affectionate family pets.
8. Boxer – Boxers are medium-sized dogs that are happy, loyal, brave, high-spirited, playful, intelligent and energetic. This breed is an excellent watchdog, is a great family pet and benefits greatly from dominant owner and training starting at a young age.
9. French Bulldog – French Bulldogs have a distinct look, too – but they're a little more funny looking than other dogs. They're adorable, too, and it's no mystery why these affectionate small dogs, with their easy-going and playful natures, have won people's hearts. French Bulldogs enjoy lavishing love on their human companions and generally get along well with everyone, including children.
10. Rottweiler – Often used as search and rescue dogs, guide dogs for the blind, and guard dogs or police dogs, Rottweilers also make great companion pets. Known for being exceptionally intelligent and strong, they are also devoted, good-natured, obedient and fearless. Properly bred and socialized Rottweilers are playful, gentle, and loving to their families.
When deciding to welcome a canine companion into your home, it's important to consider where you live, your family, your existing pets and your lifestyle. Choosing a pet with the temperament, energy level and size that complement each of these factors is a vital part of making sure your life together is a long and happy one!
Send Your Pet's Ashes To Space
A company called Celestis is now providing a way to memorialize pet by allowing their remains to boldly go where no pet has gone before: outer space.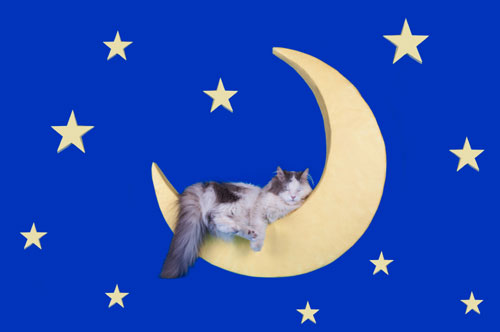 The company has already been sending human ashes into space, but only recently started offering its services to pet ashes. Pet owners can send the cremains anywhere from just outside the earth's atmosphere to the moon. The company plans to launch its first pet cremains into space in the fall.